HIKEIT X9 Throttle Controller - PJ/PK Ford Ranger - 2006 - 2011
SKU code: HIPJ

More info.
Make 4 payments of $45.75 over 8 weeks and get it now!
In Stock

6 Reasons to Install or Upgrade to the HIKEit X9 Pedal Controller

Optimum Performance

Improved Fuel Economy

Performance from a Market Leader

Lifetime Product Warranty

Unbeatable Chip Quality And Technology

Simple Self-Installation
Sick of the delay you get when pushing your accelerator pedal?
HIKEit has a solution to get rid of that pedal lag!
The HIKEit X9 Throttle Controller is the most advanced controller on the market and designed specifically To "wake up" your car by reducing throttle lag and improving the response time from your vehicle's "fly by wire" accelerator. Best of all, the X9 is Plug & Play!
What is the HIKEit X9?
The HIKEit X9 is a 'bite-size' throttle response controller that removes delays in your electronic accelerator pedal. In short, the X9 will get a faster response from your engine and therefore you'll get a modified acceleration depending on the X9 setting you select.
When you push your car's pedal it shouldn't feel like your stomping a sponge; you should get immediate response from your engine which is why we developed the HIKEit X9.
In addition to Automatic Mode Selection which will intelligently learn your driving style and the current situation and adapt the mode to suit, the X9 has 4 different control modes: Eco/4x4, Cruise, Sport/Tow, and the Highest Performance mode, HIKEit mode. Each of the 4 modes has 9 different adjustable levels available for selection.
Simple DIY Plug & Play Installation
Vehicle Specific Programming and OEM Plugs
User-Friendly Adjustments
4 Modes PLUS Automatic Selection between the 4 modes and 36 Settings
Full Certification
30 Day 100% Satisfaction Guaranteed or your Money Back
Lifetime Product Warranty and 30 Day Money Back Guarantee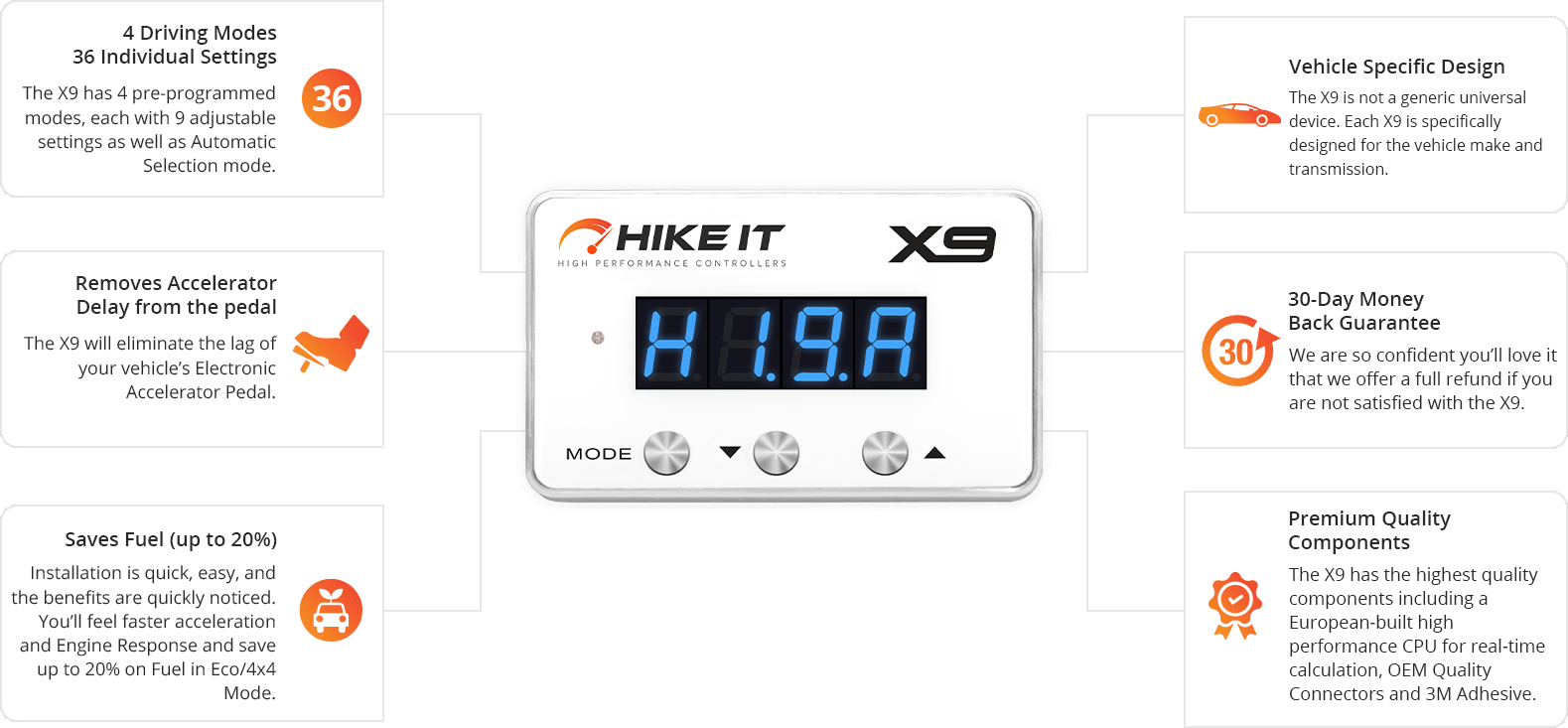 HIKEit offers vehicle specific programming and plugs for most vehicles including ALFA ROMEO, AUDI, BENTLEY,BMW, BUICK, CADILLAC, CHEVROLET, CHRYSLER, CITROEN, DODGE, FIAT, FORD, HOLDEN, HONDA, HUMMER, HYUNDAI, INFINITI, ISUZU, JAGUAR, JEEP, KIA, LAND ROVER, LEXUS, LOTUS, MASERATI, MAYBACH, MAZDA, MERCEDES BENZ, MINI, MITSUBISHI, NISSAN, OPEL VAUXHALL, PEUGEOT, PORSCHE, PROTON, RENAULT, SEAT, SKODA, SMART, SUBARU, SUZUKI, TOYOTA, VOLVO & VOLKSWAGEN.
If your model is not featured please contact us as we will likely have a suitable solution or this information is not up to date.
The X9 has a clever PCB module which updates the points of reference for a vehicles throttle mapping. Throttle Lag is added by manufacturers for a number of reasons including fuel economy. The HIKEit X9 maintains the standard parameters of your vehicle; however, introduces a sharper throttle curve (or smoother when in 4x4 Eco mode) and reduces the "dead zone" in your cars accelerator pedal.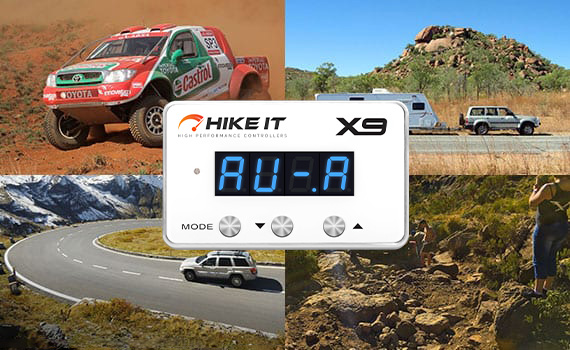 Auto IQ Selection Mode:
Set & Forget Mode
HIKEit's Auto IQ Control Mode lets the driver set and forget while the X9 learns the driver's behaviour and selects the mode from the best of 36 mode settings based on the current driving situation. Generally, fly-by-wire pedal accelerator systems have two sensors that measure both how hard and far the pedal; the X9 tweaks these for a more enjoyable, safer and fuel saving drive.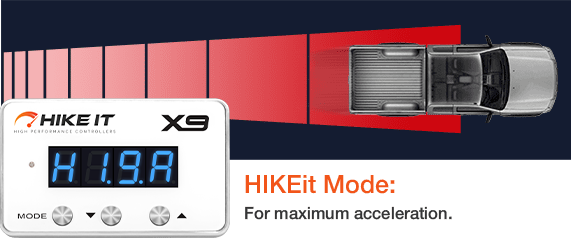 HIKEit's Performance mode (with 9 level settings) is not for the 'Sunday driver'. HIKEit setting 1 is classified as intense while setting 7-9 is like 'launch mode'. Touching the mode button while in any mode will activate 'Over-Take mode' that will instantly put the X9 into HIKEit Mode setting 9.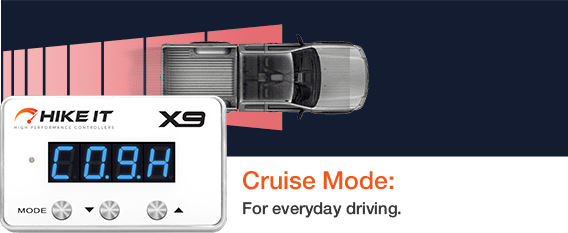 HIKEit's Cruise mode (with 9 level settings) is a tuned down version of the popular sport/tow mode which will give you more of a boost than your cars original setting. It's perfect for everyday driving that won't blow out your fuel bill and knock your socks off.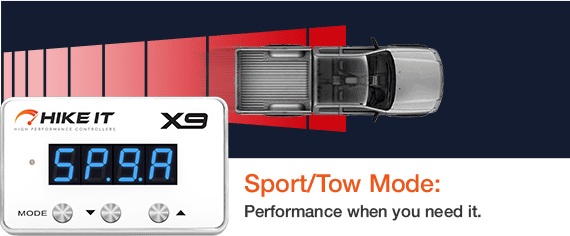 HIKEit's Sport/Tow mode (with 9 level settings) is a fun way to get around without the adrenalin boost of HIKEIT mode. It's perfect when towing anything and will adjust perfectly to the application at hand. After Auto IQ Mode, Sport/Tow mode is the most favoured.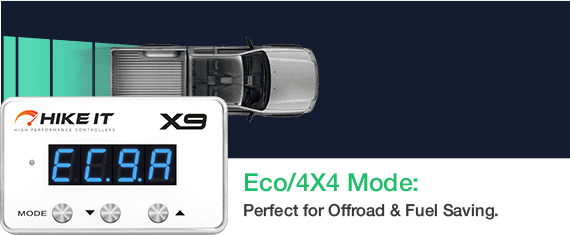 Economy Mode (E) Economy mode has 9 settings that reduce the response from the pedal which will improve fuel economy and with a dampened response it can be particularly handy in situations such as driving off road, towing, beach driving etc.
More modes than you can poke a stick at!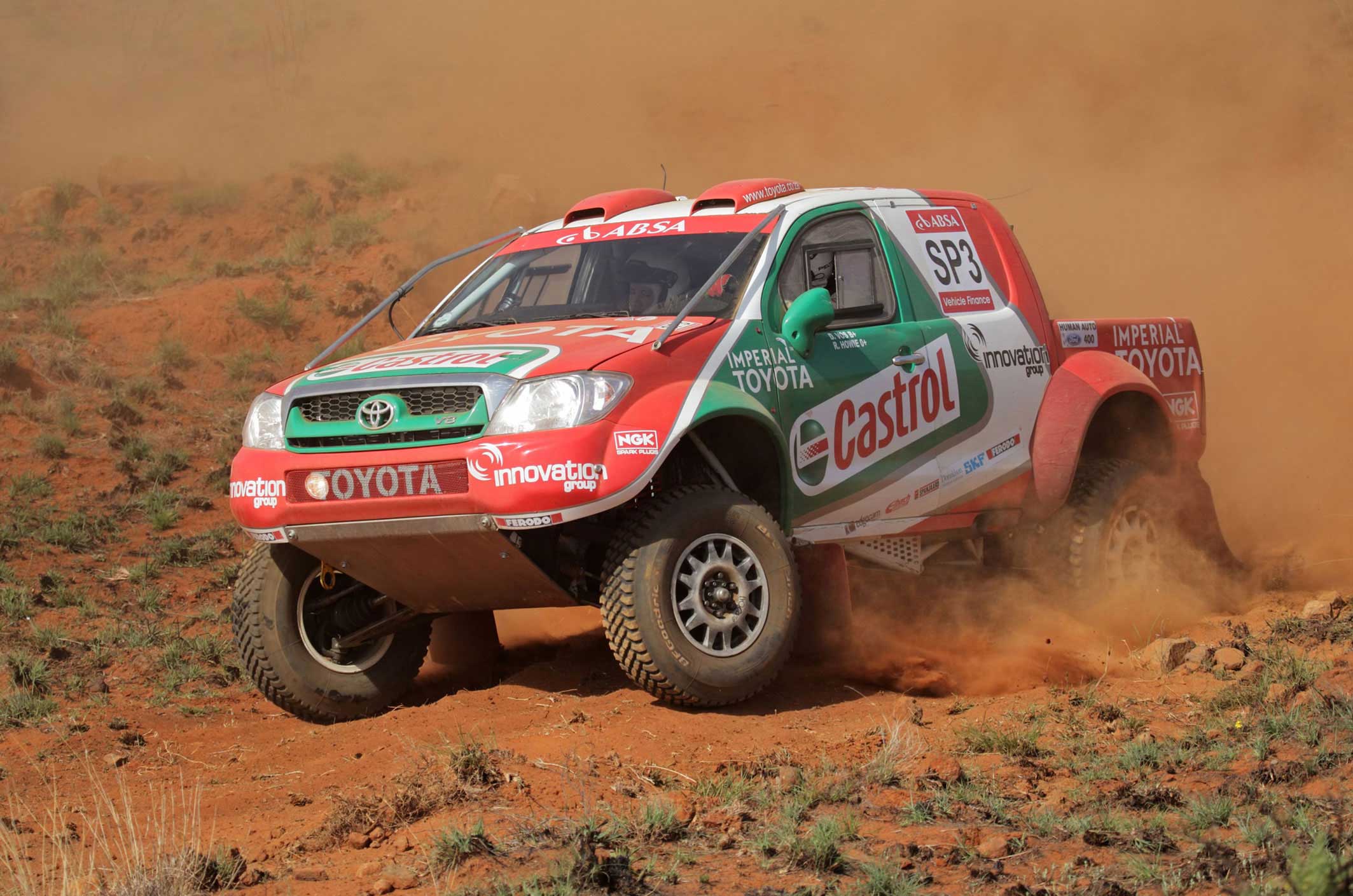 HIKEIT Mode (HI)
For max acceleration or beating every one off from the lights!
Select HI Mode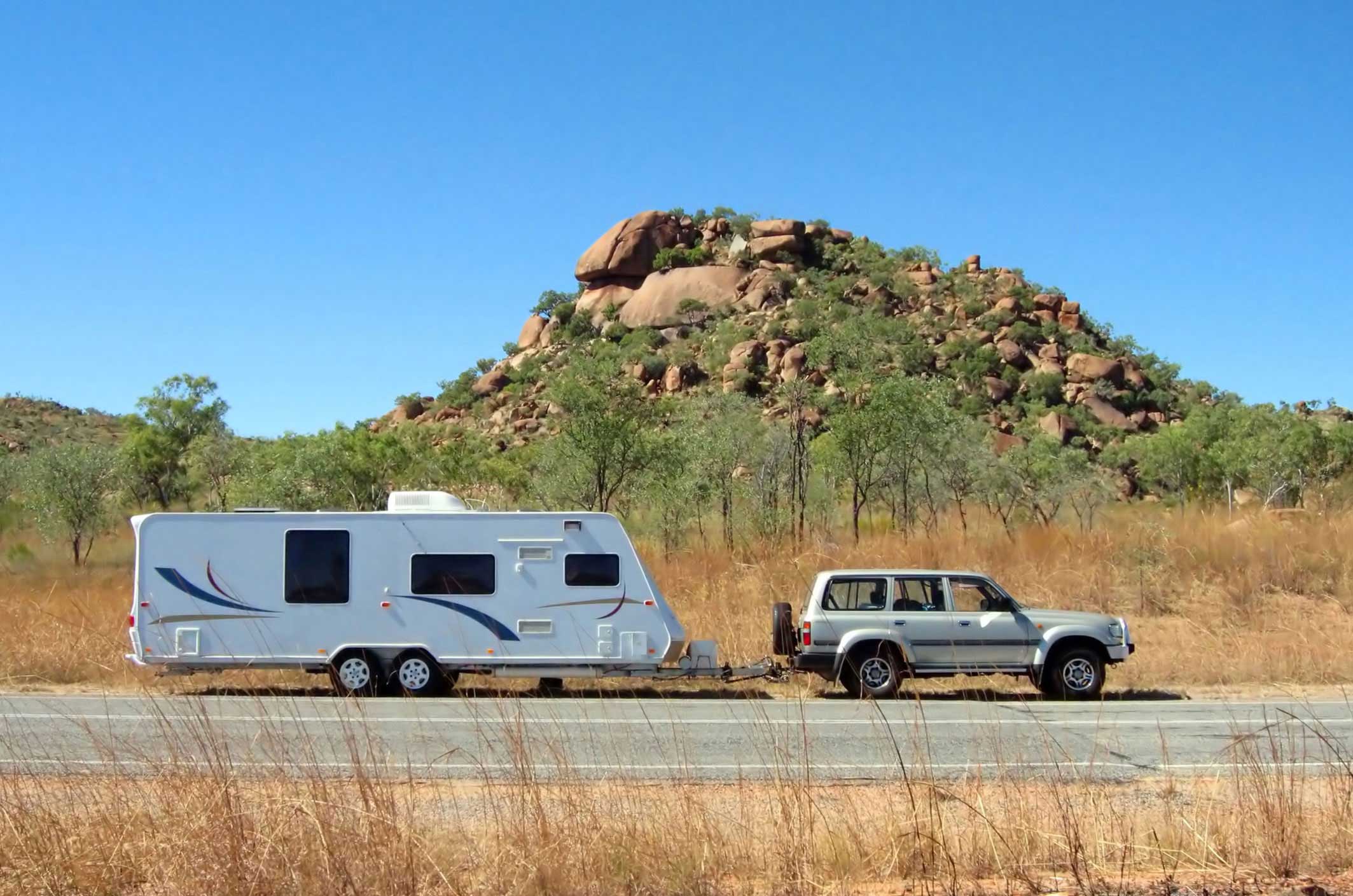 Sport/Tow (SP)
A fun way to get around without the boost of HIKEIT mode.
Select SP Mode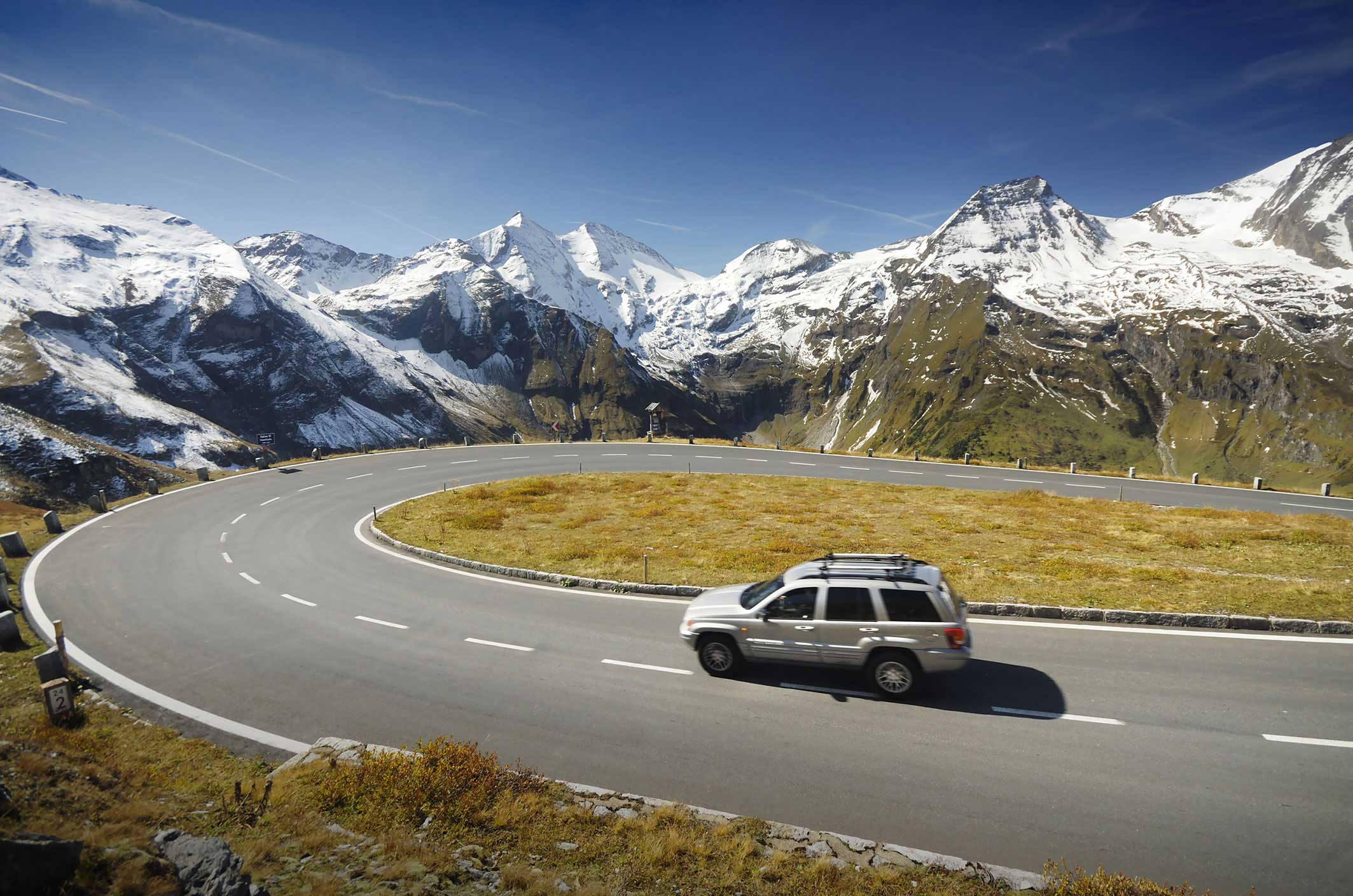 Cruise Mode (CO)
Suitable for the everyday driving and towing enthusiast.
Select CO Mode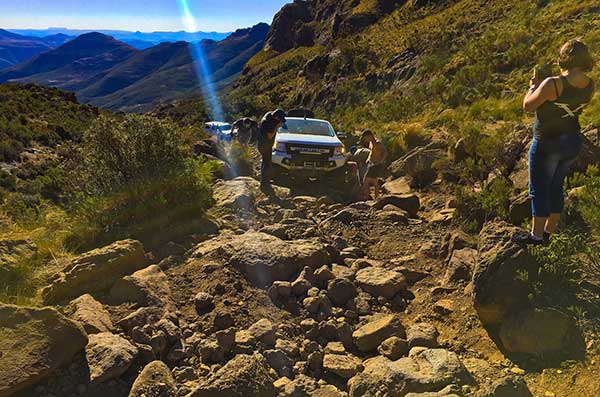 Eco/4X4 Mode
Perfect for Offroad and Improving Fuel Efficiency.
Select EC Mode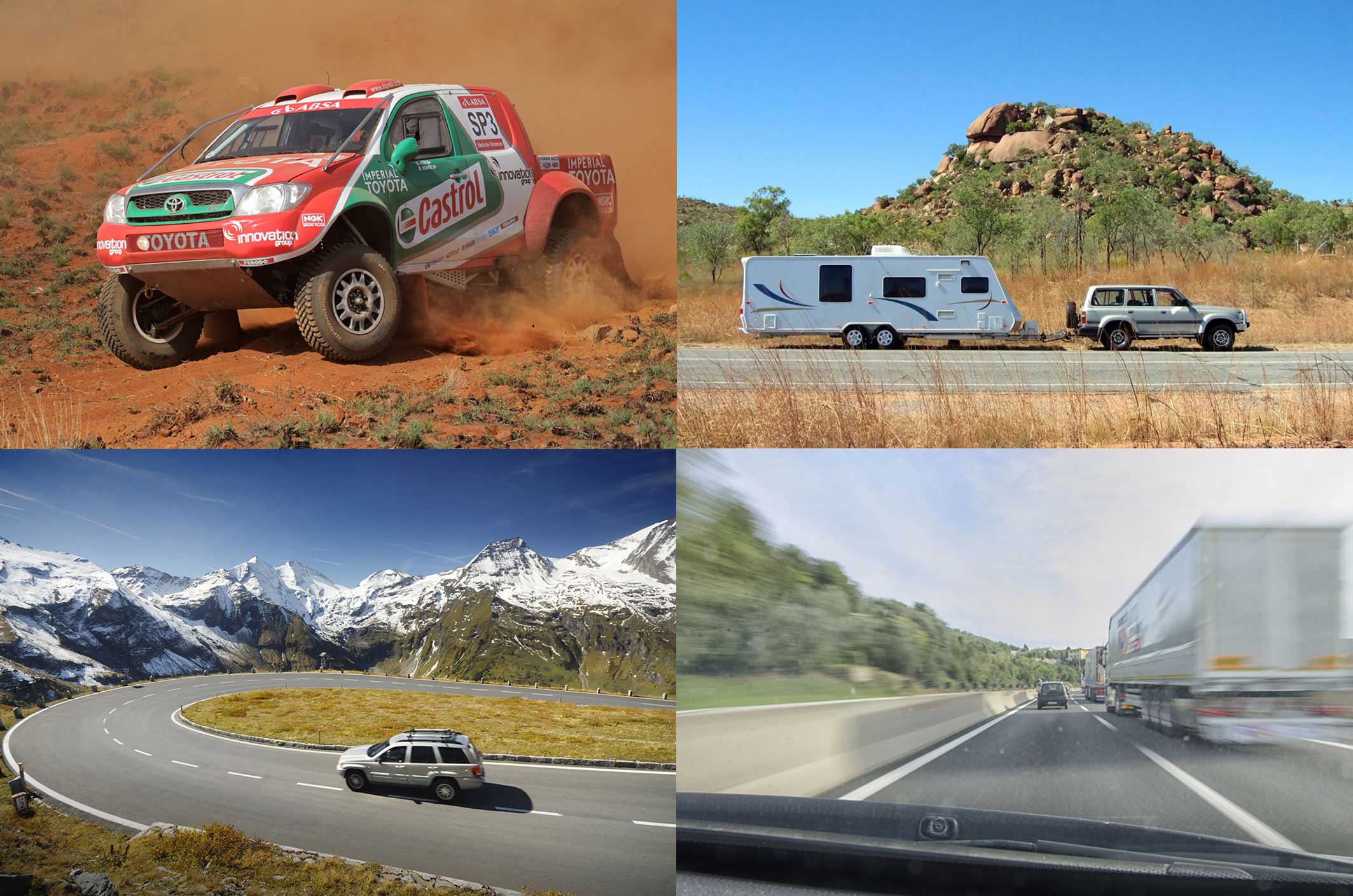 Auto IQ Mode (AU)
Intelligently switches between 36 modes and takes your transmission into account.
Select AU Mode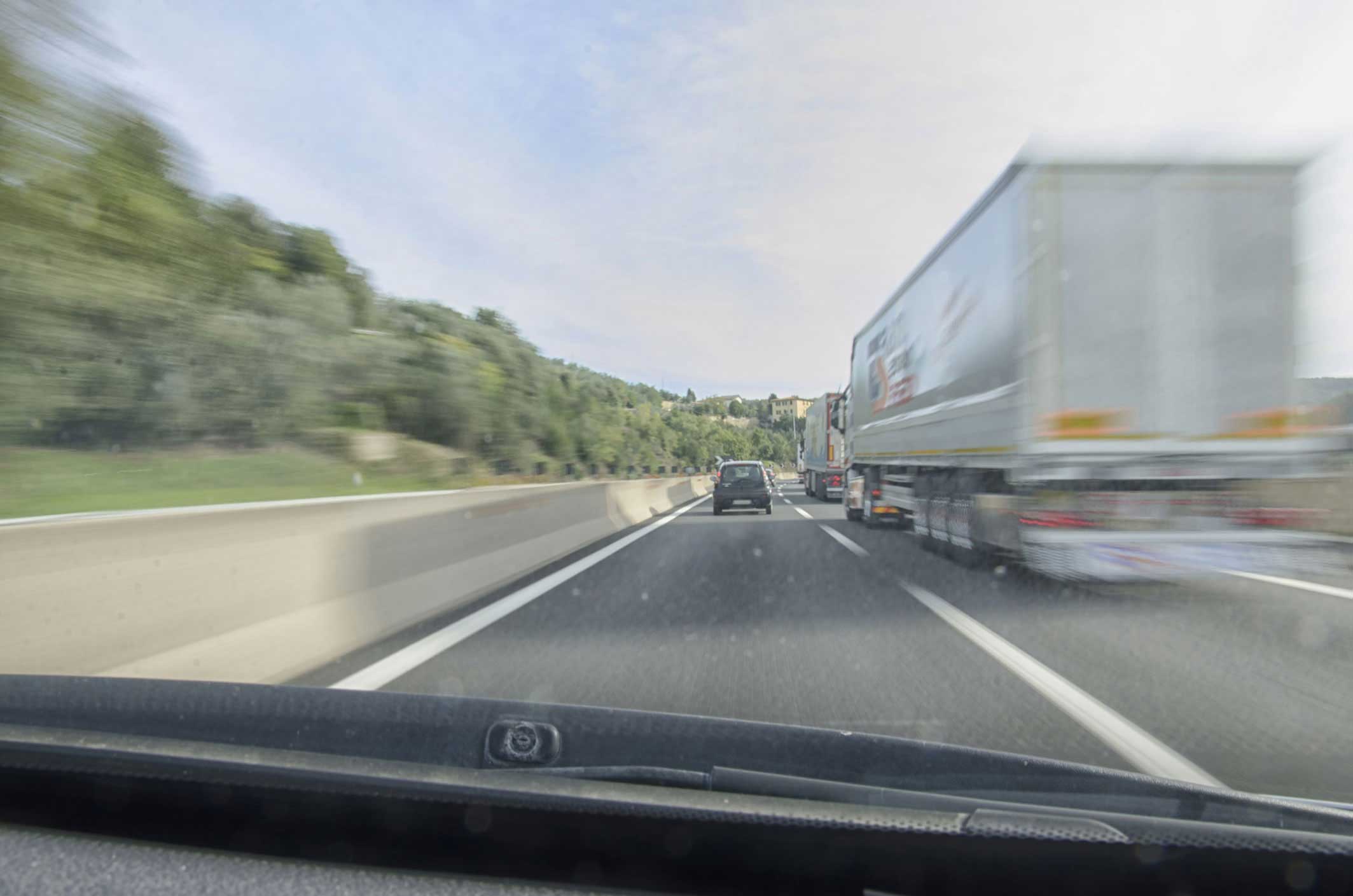 Over Take Mode
If no setting has been changed for 5 seconds just push the MODE button and jump straight into HIKEIT 9.
Hold the MODE Button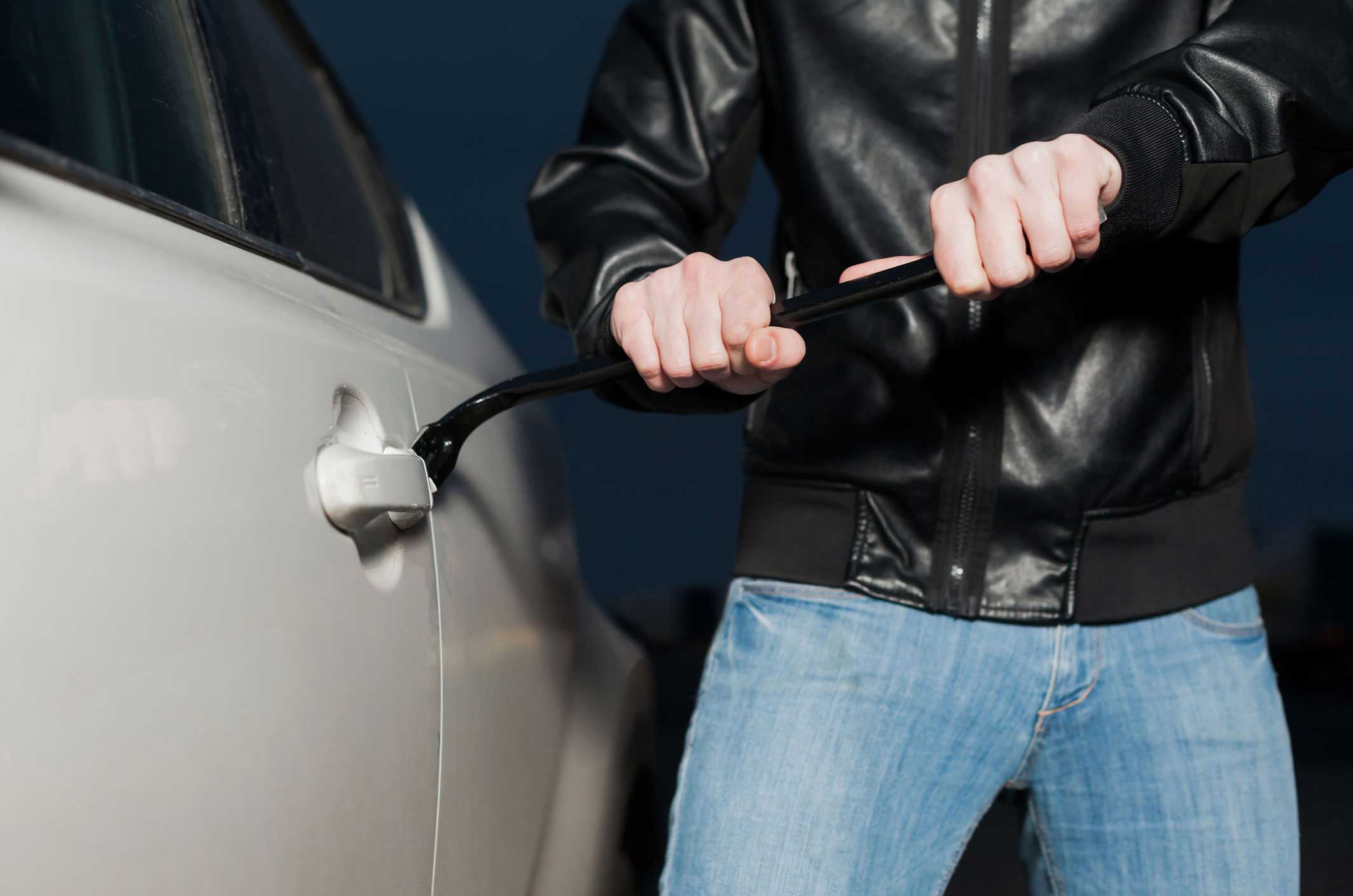 Anti-Theft Mode
Entering the Anti-Theft function will lock the car's throttle and will not accelerate at idle until unlocked.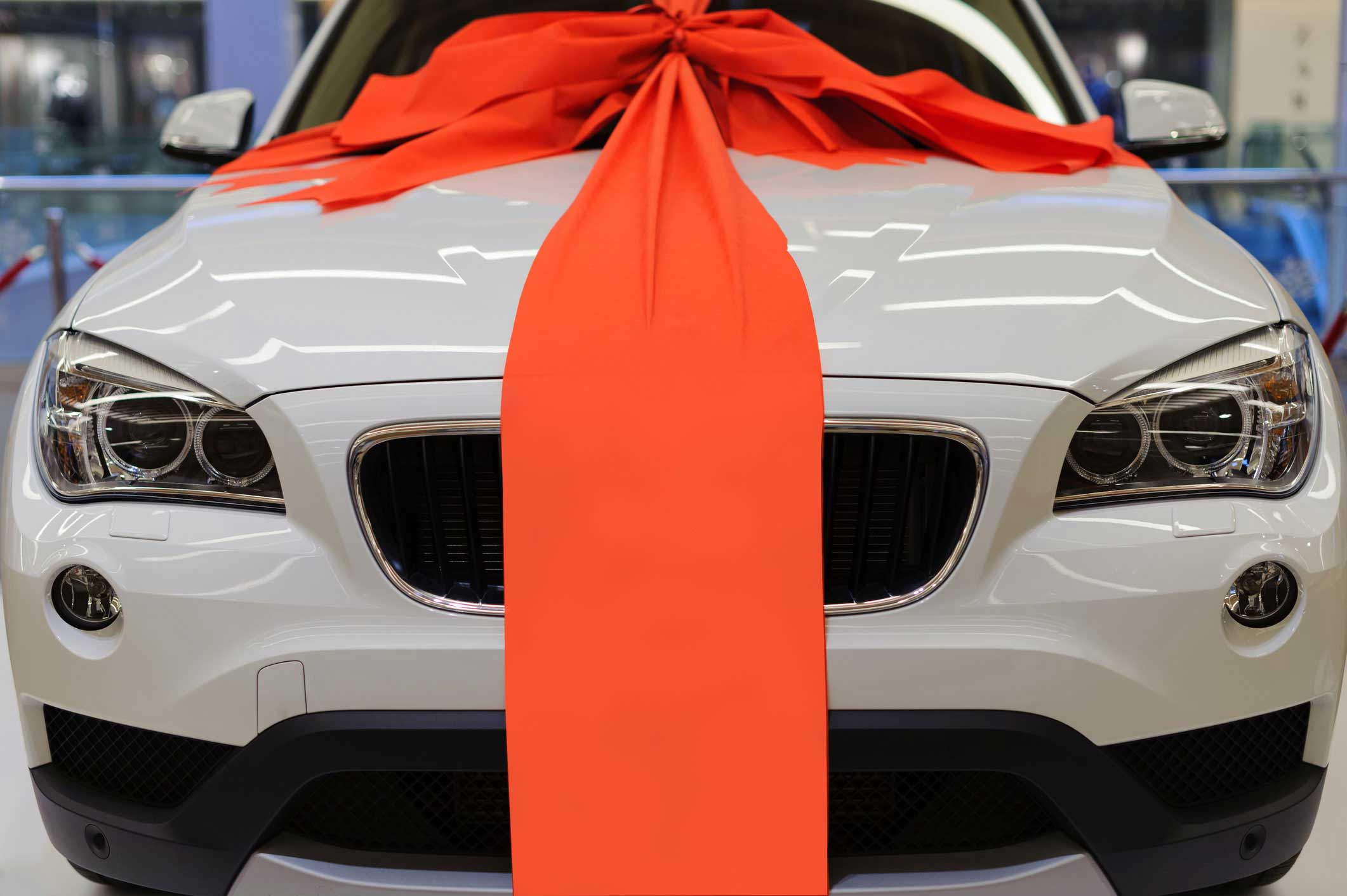 Original Mode (OFF)
Switch off the HIKEIT's influence of your vehicle and return the car to factory.
Select OFF Mode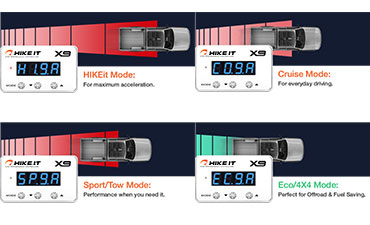 The X9 has More Modes
The X9 Smart Pedal introduces an additional 2 driving modes over the competition with 36 driver levels.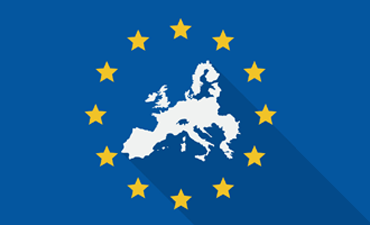 Quality-Built Dual Chipset
The heart of the X9 is the dual 32BIT Chipset sourced from industry experts which leaves it's 16BIT competition in the dust.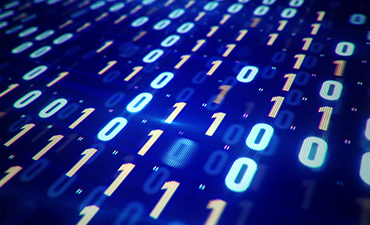 Calculations as you Drive
In Auto Mode the X9 Smart Pedal will study the way you drive then select the mode and tune setting to suit your driving style and current driving situation.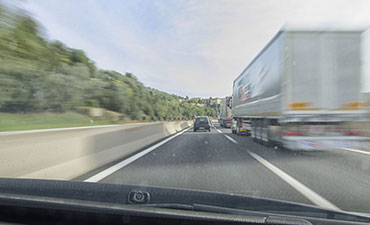 Over Take Mode
If no setting has been changed for 5 seconds just push the MODE button and jump straight into HIKEIT 9.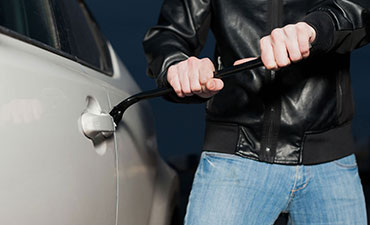 Anti-Theft Mode
Entering the Anti-Theft function will lock the car's throttle and will not accelerate at idle until unlocked.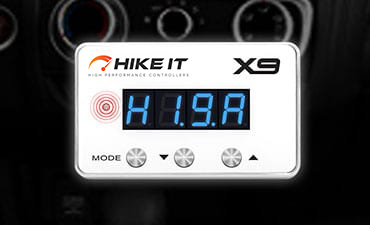 Auto Brightness Sensor
The X9 has a clever Ambient Light Sensor that will adjust the LCD brightness automatically depending on the current light situation.
Optimisation isn't just plain old optimisation
How the HIKEit X9 Stacks up against the Competition
The most widely used doesn't always mean the best. Which is true in the instance of throttle controllers. When selecting a throttle controller it's important that performance and reliability are put ahead of brand name.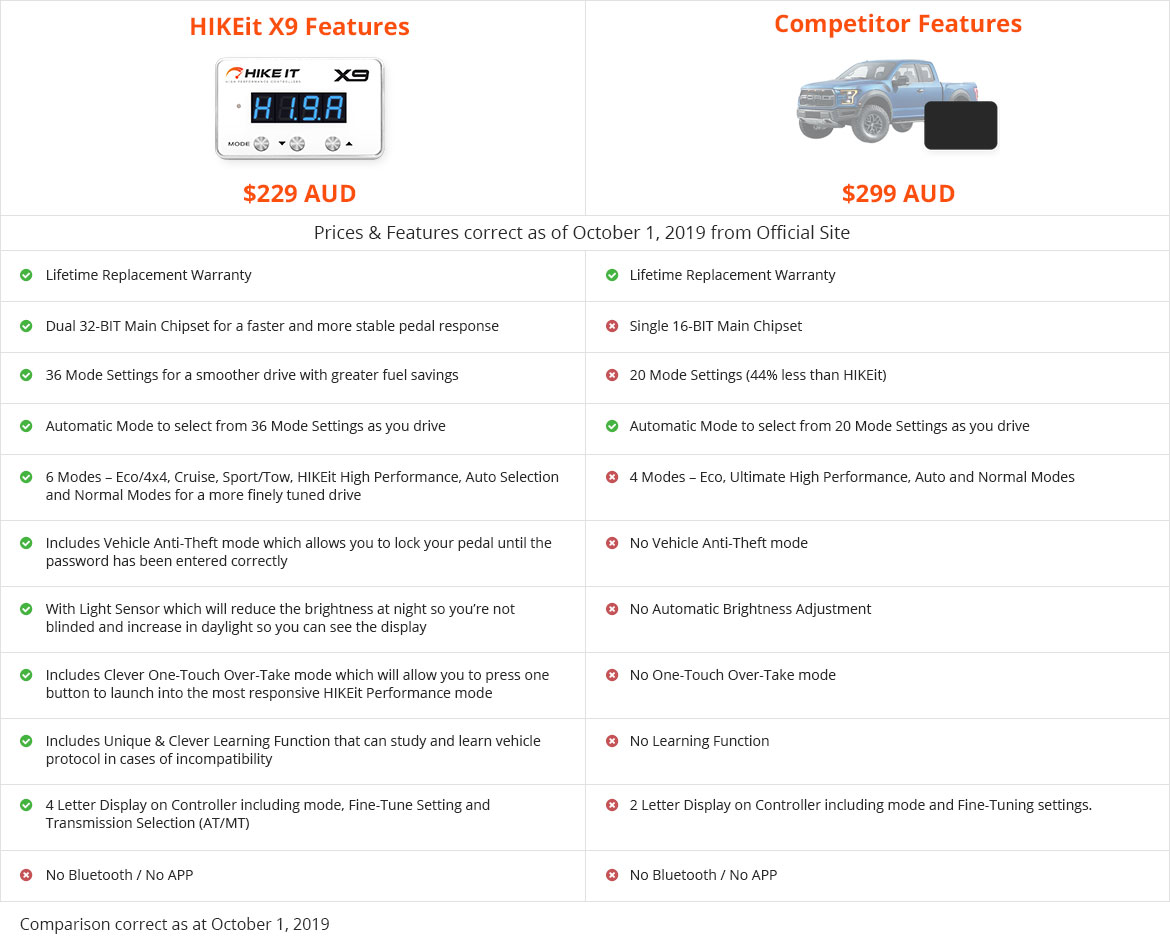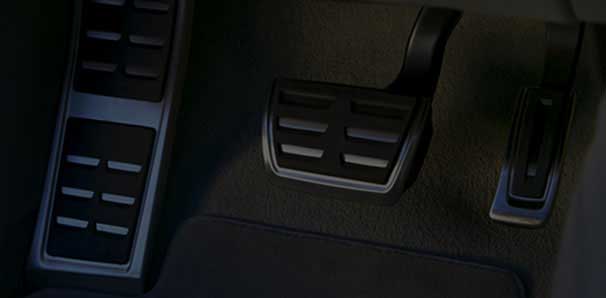 Improve Power without additional stress on your Vehicle, just better response!
The HIKEIT X9 works just like the 'Sport' button found in many cars by cutting down the amount of pedal travel required to achieve 'Throttle Wide Open' which will allow you to access the engines full potential. The HIKEIT X9 is pre-programmed with 4 adjustable mode maps which are finely tuned for your vehicle. Each function will alter the throttle signal in a different way which can be set depending on your preference.
Transmission Specific Settings
When gears changed in both Auto and Manual Transmissions there is always a slight delay in throttle response which can affect take off speed and general safety. The HIKEIT X9 sits between the pedal and your car's ECU to intercept the signal and process it in order to quicken the response time. The X9 has individual setting based on you car's transmission to tune the signal further while maintaining the original feel of an Auto or Manual Transmission.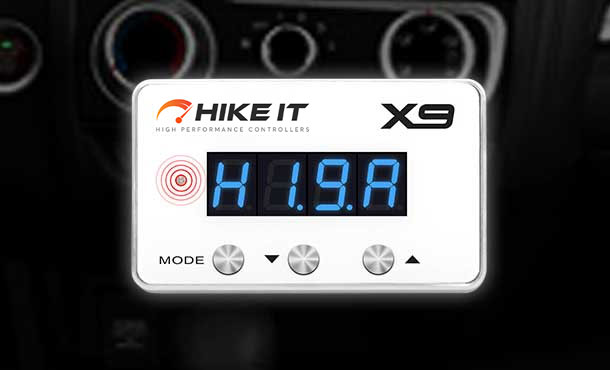 Auto Brightness Adjustment
Built into the face of the HIKEIT X9 is a clever Ambient Light Sensor which will adjust the brightness of the blue display light so you can see the settings perfectly in day light and you won't be blinded at night time.
Undetectable by your Car Dealership!
We understand the last thing you want to do is void your new car warranty. With the HIKEIT you don't need to wait for your warranty to finish before you can start customising it and improving it's driving performance.
Once removed, the HIKEIT won't leave a trace when removed while some other aftermarket tuners or programmers will add "red flags" on the ECU after installed. Rest assured that the HIKEIT is 100% UNTRACEABLE by dealerships. Before visiting your dealer for a service just unplug the HIKEIT and hide it out of sight. For repair work we recommend removing it just to be safe.
DON'T JUST TAKE OUR WORD FOR IT.
---

" The Hikeit transformed my Ranger and was the best $250 I ever spent on the car. I highly recommend the hikeit for anyone looking to give their car a boost without throwing away heaps on a chip "
- Greg, Port Macquarie, NSW, Australia

"I had the opportunity to try the HIKEIT throttle controller & couldn't believe the difference it made to my car. As the one I tried was a demo one I have taken it back out & can't wait to get one put in permanently "
- Rod, Lake Cathie, NSW, Australia

" After being disappointed with my Coast to Coast pedal box I thought I would give this unit a try for our 2015 Isuzu Mu-x. What a difference it made to its driveability. Has setting for auto or manual gearbox which for me made the auto gear changes much smoother. "
- Paul, Rowville, VIC, Australia

" WOW. My Ranger improved so much with DPCHIP I didn't think it could get much better. Greg and Matt set up the demo unit for me to try. Having tried all different combinations fort mode 1-2 as that was a nicer response and pulled off from a standing start so much better"
- John Lee, North Coast, NSW, Australia
AUTO AND MANUAL TRANSMISSION SELECTION FOR MORE SPECIFIC THROTTLE CONTROL
TRANSFERABLE TO YOUR NEXT VEHICLE
TAILORED TO YOUR VEHICLE
NO PHYSICAL TRACES LEFT BEHIND ONCE REMOVED
ALL SYSTEM ARE TUV APPROVED & CE CERTIFIED
SIMPLE PLUG & PLAY INSTALLATION

FEEL THE POWER OF YOUR CAR WITHOUT EXTENSIVE & EXPENSIVE MODIFICATIONS
---
Introducing the most advanced Pedal Controller on the market. The HIKEIT X9 is a simple yet effective throttle response modification system designed to improve your driving experience. Fitting between the accelerator pedal and the ECU (the cars brain), on modern 'drive-by-wire' vehicles, the HIKEIT Pedal Controller maximises the signal to give the smoothest and most effective response while driving. Suited to both diesel and petrol vehicles the HIKEIT X9 makes the vehicle more driveable in many ways including:
Overtaking
---
When overtaking it is essential to access all the engines power as efficiently as possible. The enhanced throttle response from the X9 improves that efficiency and therefore the speed and safety of an overtaking manoeuvre.
Driving Pleasure
---
A better throttle response from HIKEIT plays a major part in the overall driving experience as it gives the driver superior, customised control over the acceleration of their vehicle.
Coming out of a Corner
---
Prior to entering a corner, the vehicles brakes are applied and power is reduced. When the accelerator is applied through that corner or after the corner, the vehicle needs to respond smoothly and quickly in order to maintain the correct road speed. A better throttle response improves the power delivery and helps the car accelerate from the corner more effectively.
Simple DIY Installation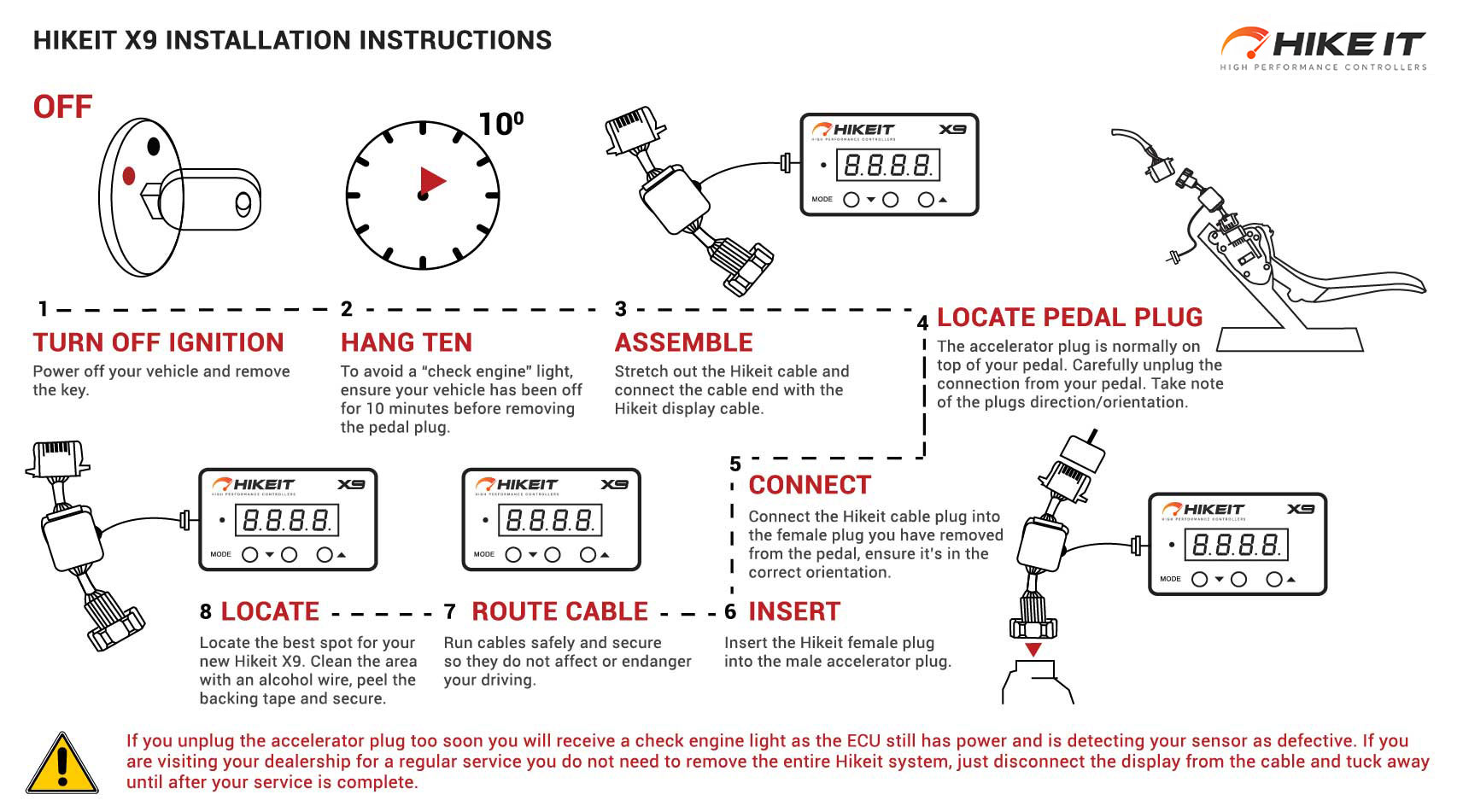 Be The First To Review This Product!
Help other Signature Spares & Performance users shop smarter by writing reviews for products you have purchased.
Related
products
More From
This Category
iDrive Throttle Controller to suit NISSAN NAVARA (
RRP $299.00 $245.00
iDrive Throttle Controller to suit NISSAN PATROL (
RRP $299.00 $245.00
iDrive Throttle Controller to suit HOLDEN COLORADO
RRP $299.00 $245.00
iDrive Throttle Controller to suit TOYOTA PRADO (J
RRP $299.00 $245.00